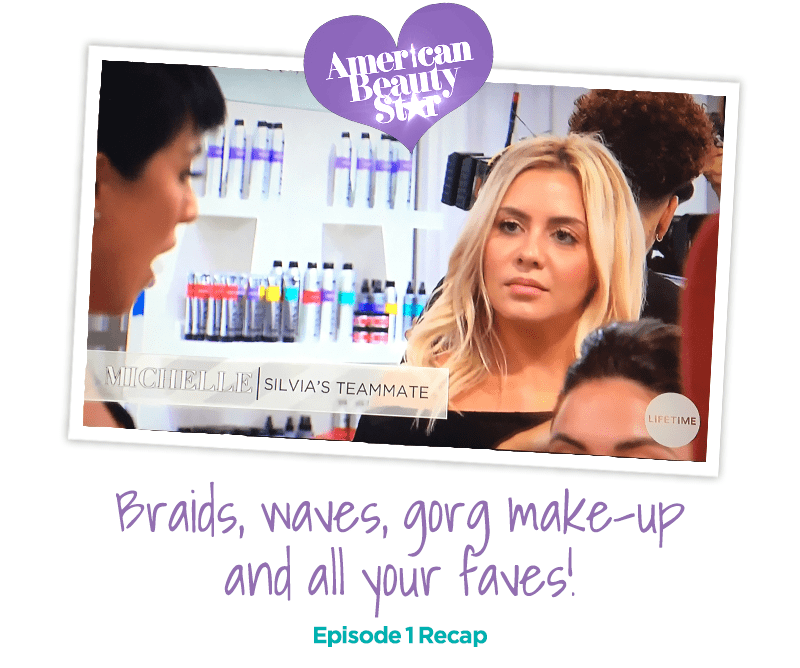 The drama, the personalities, the hair and of course the DOUBLE elimination!
Last night's premiere of American Beauty Star, on Lifetime, did not disappoint! Fave4 was front and center for all the action. 
Everything kicked off with the twelve hair and makeup artists arriving and us getting to know a little about them. The contestants were amazed at how beautiful the salon space was and super stoked about the products they'll use over the season - did you spot the Fave 4 Styling Survival Kit and Texture Takeover at every station (we did)?!
We then meet Supermodel Adriana Lima and celebrity makeup artist Sir John, who will mentor the contestants throughout the season. They explained they would work in teams of two, with either a make-up artist or hairstylist from a style squad, to bring their looks to life. The key to success will how well they take the lead and control the look and feel of their style. The winner will leave with $50K, an exclusive beauty editorial in Teen Vogue and the title of the first American Beauty Star!
The first challenge was to highlight their unique personalities with a look that would shw the judges who they were as artists. Right off the bat some contestants kicked it off with their counterparts while others, like Silvia, struggled with her make-up artist taking the lead and hijacking her concept. By the time is was ready to move to the photo shoots egos started to rage. John was super dramatic with his model during the photo shoot and showed he'd be one to watch for some serious drama throughout the season.
After the models walked the runway judges Sarah Brown, Vogue Beauty Director, Russell James, Beauty Photographer and guest judge Ta'Rhonda Jones, from Empire, picked the six contestants that were safe to the second round of competition. The remaining six: Jenny, Silvia, Amanda, Andrew, Catherine and Mitchell then had to go in front of the judges to defend their looks and get constrictive criticism. Amanda proved to be combative with the judges over her passion for her work.
After all was said and done Jenny and Silvia went home due to their looks lacking what the judges were looking for and falling short of showing the unique styles. Katherine, an ex-law enforcement officer who recently left to pursue her passion for beauty, was named the winner and gained immunity for the next challenge for the fresh, natural look she created that wowed the judges. A few of the other contestants were catty and showed jealously over the fact they felt their talents were superior to hers and that she used her 'story' to drive the win…so the drama begins! Given the diverse backgrounds of the contests and big personalities that came to play this should be a super fun and interesting season to watch unfold. Stay tuned next week!