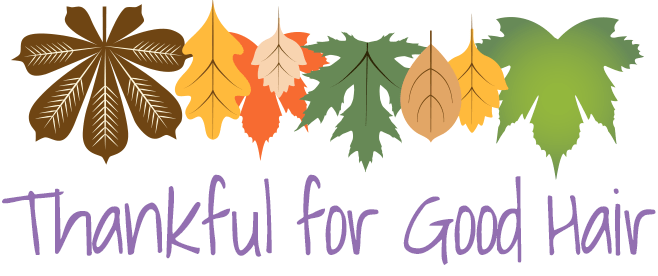 Fave4 Lead Style Expert, Amanda Soltwisch @blohaute, breaks down 4 effortless, stunning styles to get you through all your Thanksgiving activities. Now that your looks are locked all you have to deal with are your crazy relatives...good luck!
Braided Top Knot
Start by sectioning off the top half of hair. Part section directly down the center.
Beginning at the hairline, start a Dutch 3 strand braid on one side, crossing the outside strands under the middle strand verses over.
Stop the braid at the crown. Stretch out the braid by pulling at either side. Secure with clip.
Repeat braid on other side.
Gather the ends of both braids together, and tie into a ponytail at the crown.
Split ponytail into 2 sections, and tie into a knot.
If hair is long, tie into another knot.
Push knots down onto the head & secure either side with hairpins.
Finish by spraying the braids & top knot with Style Stay, then use Texture Takeover on the rest of your hair.
Start by tying hair back into a low ponytail, leaving the hair in front of the ears out.
Using hair pins- begin to tuck ponytail section by section under to create a full half bun.
Once all hair is tucked, grab one side of the hair left out. Twist back over the top of the bun.
Repeat this step on the opposite side.
Finish off with Flex Reflect to ensure this style holds all day long with amazing shine!
Knotted Bun
Start by pulling all hair up into a high pony.
Spray Workable Wear all along pony to create good grip on hair and lasting dry time to give you time to move the hair as you style.
Splitting the pony into two sections- begin to tie a knot.
Repeat the knotting process until there is not enough hair to tie.
Flatten out the knots onto the head forming an intricate bun.
Secure all side of the bun with hairpins.
Stretch the bun out to make it appear more dramatic!
The Bend & Snap
Begin by spraying hair all over with Workable Wear.
Part hair to the desired side. 
Starting on one side, using either a 1 or 1 1/4in curling iron, take a 2 in section & curl just the mid-section of the hair around the curling iron. Make sure to curl away from the face on either side.
Repeat this process on either side of the head.
Once hair is curled, using a boar bristle brush- completely brush out the curls.
Finish off with Fave4 Flex Reflect for some sparkly shine!